CNN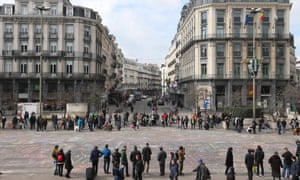 Belgian authorities bolstered security after Tuesday's attacks, including
shutting down all Brussels metro stations and evacuating the city's airport.
This comes as the terror threat level in Belgium went up to four -- its highest. That step-up means that army soldiers can be sent onto the streets to meet security needs.
In addition to the airport, broadcaster RTBF reported that the National Pensions Office in Brussels had been cleared after two suspicious packages were found inside.
The ramifications were felt outside the Belgian capital as well.
As far away as the United States, authorities in places like New York, Washington, Chicago and Los Angeles took special precautions like increased K9 sweeps of subways and additional police patrols. This was especially true around airports, subway stops and train stations, with scenes like those in the U.S. capital -- where police pulled out and checked travelers at random -- not uncommon.
Similar, if not more intense measures were enacted around Europe.
NATO, the military alliance that is headquartered in Brussels, increased its own alert level and expressed solidarity with Belgium.
"This is a cowardly attack, an attack on our values and on our open societies," NATO Secretary General Jens Stoltenberg said in a statement. "Terrorism will not defeat democracy and take away our freedoms."
As in other places, British police increased their presence at certain locations, including transport hubs like London's Heathrow and Gatwick airports, according to Scotland Yard.